Your truly unique Rooftop Experience!
Skybay Lounge by Azur Paradise prides itself with a panoramic view overseeing the Bay of Grand Bay
Our a la carte menu englobes intercontinental and local cuisines.
Skybay lounge proposes regular monthly events and happy hour on every friday.
Going beyond our a la carte menu, our experienced Chefs and Bartenders can regale you with a personalised touch of your prerequisites.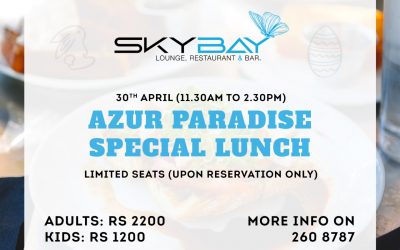 𝐀𝐙𝐔𝐑 𝐏𝐀𝐑𝐀𝐃𝐈𝐒𝐄 𝐒𝐏𝐄𝐂𝐈𝐀𝐋 𝐋𝐔𝐍𝐂𝐇 🍹🍲 Enjoy a special lunch with your friends and family at Skybay Lounge. 𝐀𝐝𝐮𝐥𝐭𝐬: 𝐑𝐬 𝟐𝟐𝟎𝟎 𝐊𝐢𝐝𝐬: 𝐑𝐬 𝟏𝟐𝟎𝟎 𝐁𝐨𝐨𝐤 𝐲𝐨𝐮𝐫 𝐭𝐚𝐛𝐥𝐞 𝐧𝐨𝐰 𝐨𝐧: 📞 𝟐𝟔𝟎 𝟖𝟕𝟖𝟕 📍 𝐂𝐨𝐚𝐬𝐭𝐚𝐥 𝐑𝐨𝐚𝐝, 𝐆𝐫𝐚𝐧𝐝 𝐁𝐚𝐢𝐞 🔗...
read more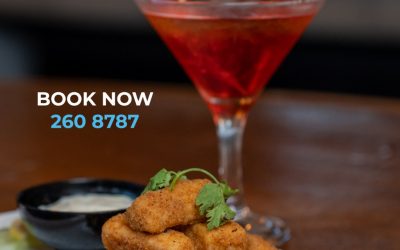 𝐇𝐀𝐏𝐏𝐘 𝐇𝐎𝐔𝐑 𝐃𝐄𝐀𝐋 🍹🍲 Receive a snack platter for free for any 5 drinks bought! Enjoy good food and drinks with your best friends and family every Friday at our Rooftop Bar! 𝐁𝐨𝐨𝐤 𝐲𝐨𝐮𝐫 𝐭𝐚𝐛𝐥𝐞 𝐧𝐨𝐰 𝐨𝐧: 📞 𝟐𝟔𝟎 𝟖𝟕𝟖𝟕 📍 𝐂𝐨𝐚𝐬𝐭𝐚𝐥 𝐑𝐨𝐚𝐝, 𝐆𝐫𝐚𝐧𝐝 𝐁𝐚𝐢𝐞 🔗...
read more